Scottish Parliament denies owning 'visitor' bees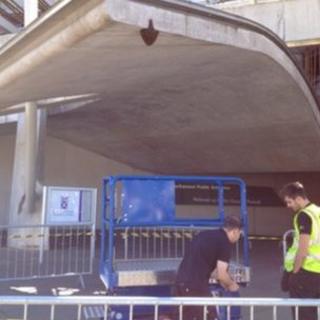 Officials have denied owning a swarm of bees that attached to the Scottish Parliament's former visitors' entrance in Edinburgh.
Apiarists removed the swarm earlier after cordoning off an area.
A spokeswoman for the nearby Palace of Holyrood House confirmed there were no hives within its grounds.
The Scottish Parliament became the first legislature in the UK to have beehives when two were installed earlier this year.
A Scottish Parliament spokeswoman said: "Today's visitors were not our bees.
"Our bees are very happy and contented in their own hives and blissfully unaware of today's excitement."