Senior official Mark Turley resigns from Edinburgh City Council over Mortonhall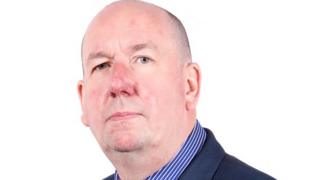 A senior official at the helm of a council department involved in the Mortonhall baby ashes scandal has resigned.
Mark Turley, Edinburgh City Council's director of services for communities, had been suspended on full pay.
His department governed Mortonhall Crematorium which was condemned for burying baby ashes in secret.
Mr Turley said he wanted to act in an "honourable" way by accepting overall responsibility for what went wrong.
He said: "Whilst I do not believe I personally contributed to any wrongdoing at Mortonhall Crematorium, as the director with ultimate accountability I believe it is right that I do the honourable thing.
"I have therefore asked the chief executive to accept my resignation.
"I would like to thank the many partners and colleagues who have supported me through this difficult period and wish them all well for the future."
Former lord advocate Dame Elish Angiolini published a report into the scandal in May.
Her report found that hundreds of parents affected by the scandal had not been told that ashes were left after cremations because staff believed it was "too distressing" for them.
'Difficult circumstances'
She said it was not known for sure what remains of which babies were interred in an unmarked "garden of remembrance" at Mortonhall.
Mr Turley's council remit also included Liberton High School, where 12-year-old Keane Wallace-Bennett died when a wall fell on her as she changed for PE in April.
He was also involved in the statutory repairs scandal at the council, leading the internal investigation into both the property conservation and property care departments.
A report into the scandal found "serious and wide-ranging management failure" allowed it to become £30m in debt. Eleven people were sacked and six suspended.
Council chief executive Sue Bruce confirmed the investigation into Mr Turley's conduct over Mortonhall had now been scrapped.
She said: "Mark has made a significant contribution to this council and to the city over the past 20 years, in particular in relation to the provision of housing.
"I respect the decision he has taken in these difficult circumstances.
"I would like to take this opportunity to make it clear that Mark was placed under precautionary suspension to allow an investigation to take place.
"This is standard practice in such circumstances. In light of Mark's decision, that investigation will not now proceed."