Fish 'make friends' and guide each other in hunt for food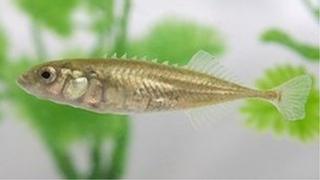 Fish form friendships and guide each other to food, a new study suggests.
Scientists found stickleback recognise other fish they have previously been housed with and spend more time with them than unfamiliar ones.
Researchers from the University of St Andrews monitored 80 stickleback as they were split into different groups over six weeks.
Dr Mike Webster said: "You see little cliques develop between the fish."
The study, conducted with Anglia Ruskin University and McMaster University in Canada, found fish were more likely to spot hidden food if a familiar fish had recently found it.
Dr Webster said: "We think the fish prefer to shoal with familiar individuals and interact more with them.
"They tend to follow each other so if one fish finds food it's more likely that the one following it is going to be familiar and will find the food."
It is also thought fish may prefer to interact with those that have a similar smell to them.
Experts believe the findings could reveal how new behaviours spread through animal populations, allowing them to respond and adapt to changes in the environment.
Dr Webster said: " "It could also allow us to track or predict the spread of diseases, and to change the way that we manage populations of livestock or wild animals."