Two bodies to be reburied at Adambrae Cemetery in Livingston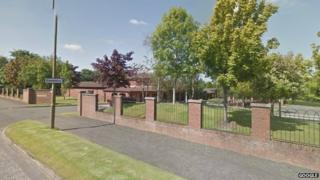 Two bodies are being exhumed at a West Lothian graveyard, 15 months after a man was buried in the wrong plot.
A re-interment service will be held on Saturday after Hugh McAleese's body was accidentally buried next to Anne Ramage in Adambrae Cemetery, Livingston.
Her family had bought the plots on either side of her grave as part of her dying wish for a family lair.
West Lothian Council has carried out a full investigation and apologised to both families.
'Legal process'
A West Lothian Council spokesman said: "We can confirm that a serious error was made with the burial of an individual at Adambrae Cemetery. We issued an apology to the families involved once the error was discovered.
"We have been in regular contact with the families over the past year in an effort to rectify the error in a dignified, sensitive and respectful manner, whilst also being mindful to respect their privacy.
"The timescales are largely dictated by the families who own the lairs and the need to follow due legal process.
"We have respected both families' need to make a decision on how they wish to proceed in their own time."