HMS Queen Elizabeth carrier floated for the first time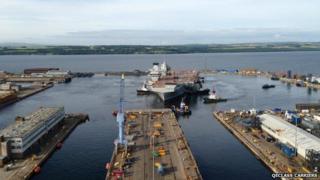 HMS Queen Elizabeth has been floated for the first time at docks in Rosyth.
The giant aircraft carrier was released from a dry dock at about 03:00 on Thursday.
The ship is the largest warship ever built for the Royal Navy and was formally named by the Queen in a ceremony earlier this month.
It will remain in Rosyth until it is handed over to the Ministry of Defence in 2016 ahead of being put into service in 2020.
Six shipyards from across the UK and more than 10,000 people were involved in building parts of the vessel.
The estimated cost of the ship and its sister ship, the HMS Prince of Wales. is £6.2bn, well over the initial projected cost of £3.65bn.
The warship is as long as 25 buses and can carry 40 jets and helicopters at a time. It will have a permanent crew of almost 1,600.
Once the carrier has been fitted out with equipment, it will make way for the assembly of its sister ship which is set to start later this year at Rosyth.