Bike lane dug up months after being built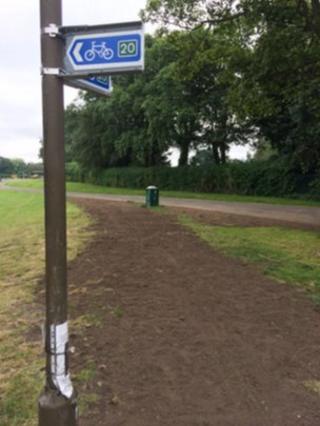 Edinburgh City Council is facing criticism after it dug up a section of bike lane in a popular city park about a year after building it.
Campaigners said the decision highlights how the local authority is "squandering" cash earmarked for improvements to cycling infrastructure.
The short section of bike lane in Inverleith Park was part of the Craigleith to Botanic Garden Cycle Route.
The route was described by council officials as an "important development in the improvement of the city's pedestrian and cycling networks, in line with the council's policies to encourage active and environmentally friendly travel".
Edinburgh plans to spend £1.8m on cycling initiatives in this financial year. That represents 7% of its total transport budget.
The council's goal is to have at least 15% of all journeys made by bike by 2020.
'Not fit'
Kim Harding, one of the founders of the Pedal on Parliament campaign, has warned the council "lacks staff with sufficient professional competence" to achieve that target.
He singled out Edinburgh's Quality Bike Corridor, which links George IV Bridge in the city centre with Edinburgh University's King's Buildings campus, for criticism.
Mr Harding said: "We have seen the Quality Bike Corridor, described by Dutch experts as "rubbish" and not fit for purpose.
"We have seen major transport projects like the introduction of the trams, where cycle provision is a bolt on after thought, the most expensive approach, rather than an integral part of the project, the cheapest approach.
"We even have the situation where cycle infrastructure has been put in Inverleith Park only be ripped out again a year later without consultation.
"This lack of professional competence, cross departmental co-ordination and strategic control, is wasting public money and needs to be taken in hand with extreme urgency."
Finance
John Lauder, national director of Sustrans Scotland, said: "We are bewildered as to why this relatively new path has been dug up.
"Despite not being directly involved with its installation, Sustrans is still of the opinion that it was an improvement for both cyclists and walkers in Inverleith Park.
"Also, from a purely financial perspective, it does not make sense to uninstall this infrastructure so soon after it was put in place.
"In order to deliver the ambitious aims of the Edinburgh Active Travel Action Plan, including including the aim to see 15% of trips in the city being made by bicycle by 2020, it is essential that all arms of the council are on the same page, at the moment there seems to be a disconnect."
A Council spokesperson said: "A small additional section of path within the Park, which was installed last year to enhance the Craigleith to Botanic Garden Cycle Route, has been removed following concerns from the public over cycle speeds and potential conflict with pedestrians."
Convener of the Friends of Inverleith Park Pam Barnes added: ""We are not removing a cycling path in Inverleith Park - we are removing a spur to an already existing path which is used by cyclists and others. The spur was put in to enable cyclists to cut a corner and speed up along the existing path.
"This spur was put in without consulting park users and has caused some near collisions between dogs, children and cyclists. It has also upset the drainage of the area by removing drainage channels.
"There is plenty of original path for cyclists - it just means they have to go a little slower at this point which is safer both for them and for other park users."