Anti-Israeli protest on the streets of Edinburgh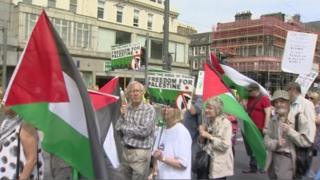 Demonstrators took to the streets of Edinburgh to protest at Israel's offensive on Palestine.
The protest, organised by the Scottish Palestine Solidarity Campaign, started at the foot of the Mound and made its way along Princes Street.
It came amid claims that the death toll in Gaza has now passed 1,000 since the Israel-Hamas conflict began on 8 July.
Organisers said they wanted to send a message that governments "must take steps to isolate Israel immediately."
There was a strong police presence, but no serious incidents have so far been reported.