Lorry carrying JCB hits railway bridge in Edinburgh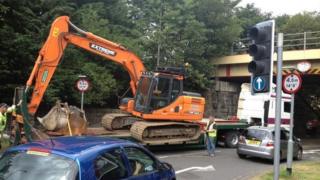 A heavy goods lorry carrying a JCB has been freed after becoming stuck under a railway bridge in Edinburgh.
Emergency services have reopened Lady Road, near Cameron Toll, following the incident which happened just after 13:45.
Network Rail said officials examined the safety of the structure following the strike and deemed it safe after only finding scratches.
It said the line was used for freight trains rather than passenger services.