Chemical incident at Midlothian recycling centre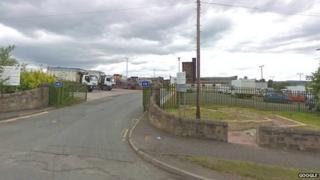 Eight people have been checked by ambulance crews following a chemical incident at a Midlothian recycling centre.
The council workers became unwell at Stobhill Household Waste Recycling Centre in Gorebridge after a spill of Ammonia Chloride Sulphate at 09:50.
An area around the depot was cordoned off as a public safety measure until it was declared safe at 15:00.
A Midlothian Council spokeswoman said the chemical had a low to medium risk.
A Midlothian Council spokeswoman, said: "We take these types of incidents very seriously and as soon as they occur we work with our colleagues in emergency services to put our emergency contingency plan into place.
"We would like to thank everyone for their patience this morning, while the fire service undertook their investigations.
"Thankfully the chemical turned out to be low risk with no health implications for anyone involved."