Child rapist Ronald Smith jailed for 30-year-old crimes in Fife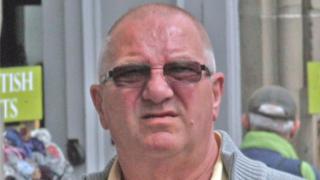 A child rapist in Fife has been jailed for nine years for sex crimes committed more than three decades ago.
Ronald Smith, 71, sexually assaulted a boy and raped a girl three times in the 1970s in his hometown of Kirkcaldy.
Smith had denied charges of sexual assault, rape and assault with intent to rape but was found guilty of four offences.
A judge at the High Court in Edinburgh said the evidence showed his victims had "suffered gravely".
Lord Pentland told Smith at the High Court in Edinburgh: "It is no exaggeration to say that what you did to each of them has cast a long, dark shadow over their lives for many years."
The judge said Smith must have thought, as the years passed, that his abuse would not be uncovered and told him: "You have now, at last, been brought to justice."
'Burning anger'
A 58-year-old victim described the abuse he suffered from Smith as "horrible" and "painful".
The man, who estimated he was 13 or 14 when he was targeted by Smith, said he had woken to find his attacker with his hand over his mouth.
"I didn't understand what was happening to me," he told the court.
Smith also raped a girl aged between seven and 11 on three occasions at a house in Kirkcaldy between 1975 and 1979.
Advocate depute Bill McVicar told jurors that both victims had "endured decades of burning anger and upset".
Defence counsel Shelagh McCall said of Smith: "He is a man who has had a long-term, stable employment record and continued to be in employment until these current proceedings."
She urged the judge to accept that the risk of further offending of that type was "slim".
Miss McCall said a background report prepared on Smith had raised some medical issues, but Lord Pentland said he had to proceed on the basis that he would receive proper medical care in the prison system.
Lord Pentland said he accepted Smith had no previous convictions and had been of good character since the offences were committed.
He told him he would be on the sex offenders' register for the rest of his life.