£7m Lotto winner Willie Sibbald shares win with workmate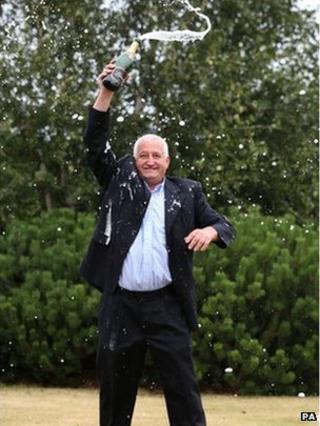 An Edinburgh painter and decorator who won more than £7m on the lottery has vowed to share some of his fortune with a workmate.
Willie Sibbald, 48, agreed to honour a long-standing agreement between the pair after matching all six numbers on Saturday's Lotto rollover draw.
He broke the good news to his friend and colleague of 17 years, Rab Layden, and they both handed in their notice.
Their pact was they would "see each other right" if one of them ever won.
Mr Layden, 57, also from Edinburgh, was at work painting a kitchen when he received the call. The pair, who decorated houses and commercial properties, then met and told bosses they would not be returning to work.
"He phoned me at 13:45 and said 'By the way I've got something to tell you, are you sitting down? I'm the guy that won the lottery' - and I about collapsed," Mr Layden said.
"I then met him at the yard and told the bosses at 14:40 and retired five minutes later. Then we went for a pint."
The two friends have both played the lottery every week for years, buying two tickets each, and promised if either of them won they would make sure the other would not need to work again.
Mr Sibbald said: "We used to say 'Imagine it was us, what would you do?' But you never expect it.
"It's one of those things you say. You're sitting there eating your piece and you'd say 'Rab, imagine if we won this, you'd never need to work again.' But you never really think it's going to happen."
Rolls-Royce
The pair are both dedicated followers of the Scottish national football team and are now looking forward to travelling to all the away matches.
Mr Layden said: "Obviously Willie has turned up trumps.
"The trust and the loyalty is there, there was never any doubt about it. Truth and honesty always comes to the fore."
Mr Sibbald admitted he had missed the live draw after falling asleep and only realised he was a multimillionaire later when he was watching TV and spotted the winning numbers during an advert break.
Describing the moment he realised he had won, Mr Sibbald said: "I was staying with one of my relatives and I checked the ticket and shouted to my aunty 'I've won the lottery' and we checked the ticket again and again. It was just crazy."
Mr Sibbald then had to hide the ticket away from his aunt's pet dog, Sandy - who he said likes to eat bits of paper.
"I was just looking at the ticket and wanted to phone somebody but had to wait to get it verified. I hardly got a wink of sleep all night.
"My brother was on a night out so I waited until the following morning and called his wife to pass on the good news. She didn't believe me at first and thought I was joking - it's not exactly a call you expect on a Sunday morning."
After putting down his paint brush, he now hopes to buy a Rolls-Royce, after he learns to drive, but has no plans to move from his home city.
"It's been such a whirlwind I've not had time to really think about what I will do with the money but I will probably learn to drive and get myself a car," he said.
The winning ticket was bought at a newsagent's in Moredun Park Road, Moredun. The winning Lotto numbers were 16, 36, 40, 43, 45 and 47 and the bonus ball was 10.