New classrooms open to pupils across Edinburgh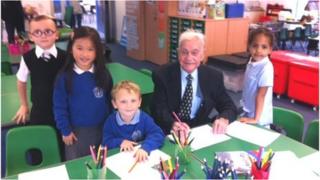 A total of 23 new classrooms have opened to pupils in Edinburgh as council responds to rising school rolls.
Four new buildings providing 18 high quality classrooms have been built at Victoria, St David's RC, Craigour Park and Broughton Primary Schools.
Five extra classes have been created at a further four schools, Bruntsfield, Fox Covert, Gylemuir and Stockbridge.
The £3.8m project was funded by Edinburgh City Council.
Victoria Primary School had a special opening ceremony earlier with 93-year-old local resident George Hackland, who was a pupil at the school in 1927.
Mr Hackland, said: "The new building is very different from when I was a pupil at the school 80 years ago.
"It's nice and big and open for the children to learn in.
"It's a great school that does a lot with the local community."
Rising numbers
Paul Godzik, Edinburgh City Council's education convener, said: "I'm delighted that for the second year in a row we have successfully delivered much-needed class spaces for our primary schools pupils.
"Dealing with rising rolls is a challenge, but it is a challenge we are meeting.
"However we know that with primary school rolls currently projected to rise to a peak of nearly 31,000 pupils by 2019 there is still a lot more work to be done.
"We will continue to listen to parents' views and work with school communities as we move forward together on our plans for even more new class spaces.
"Whether it is traditional extensions, new buildings or the refurbishment of existing space, we are committed to providing the very best educational environment for our pupils."
Laura Thomson, head teacher at Victoria Primary School, said: "There's a real buzz of excitement around the school with the new classrooms opening.
"Staff and pupils have watched them being built over the past few months so to start teaching in them will be great as they will provide a bright and stimulating learning environment.
"The children are so excited about starting the school year in their brand new classrooms."