Edinburgh Zoo's panda enclosure to close during Tian Tian pregnancy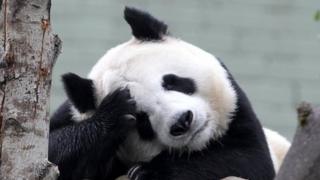 The panda enclosure at Edinburgh Zoo is to be closed to visitors following news of the likely pregnancy of giant panda Tian Tian.
The attraction will remain open to ticket holders until Saturday 16 August before closing until further notice.
Tian Tian was artificially inseminated earlier this year after attempts to bring her together with male partner, Yang Guang, failed.
If the pregnancy is successful, a cub could be born by the end of the month.
Iain Valentine, director of Giant Pandas for the Royal Zoological Society of Scotland, confirmed only visitors with pre-booked tickets will be admitted before the closing date.
He said: "Walk-up tickets are no longer available at the front entrance.
"Visitors with pre-booked tickets for dates after 15 August will be contacted by e-mail with details on how to rearrange their bookings."
The two pandas arrived in Scotland from China in 2011.
Tian Tian has had cubs in the past in China, before she came on loan to Edinburgh.
If she does have a successful delivery, it will be the first time a giant panda has been born in Britain.