Baby chimpanzee goes on display at Edinburgh Zoo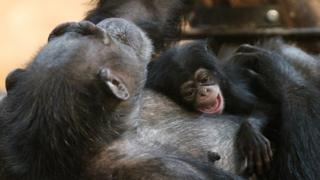 The first baby chimpanzee to be reared in captivity in Scotland in 15 years has gone on display at Edinburgh Zoo.
Eight weeks old Velu was born to mother Heleen on 24 June and lives in the Budongo Trail at the zoo with 18 other chimpanzees.
Heleen is from a group of nine chimpanzees who arrived at Edinburgh Zoo from the Netherlands in 2010.
The chimps started life in a research lab, then were rehomed to Beekse Bergen Safari Park, before Edinburgh.
Sophie Pearson, team leader for the Budongo Trail at Edinburgh Zoo, said: "We are delighted with the arrival and successful integration of Velu into our chimpanzee group.
"Still very young, Velu will look like a baby for another five years or so.
"He currently has a beautiful pale, pinky-coloured face which will darken as he gets older and has a mass of spiky hair.
"His father is either 38 year old Louis or 21 year old Rene, two of the males in our group. Later on we will do a paternity test to confirm."