Palestinian flag to be raised over Edinburgh City Chambers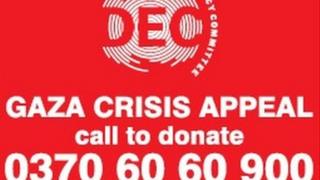 Edinburgh City Council has agreed to fly the Palestinian flag for one day over the city chambers.
The flag will be raised at the same time as the Disasters Emergency Committee flag, which is being raised to promote the charity's Gaza appeal.
The charity is calling for an immediate ceasefire in the region.
The Palestinian flag was raised over Glasgow's City Chambers in support of the people of Gaza on 8 August.
Andrew Burns, Edinburgh City Council's leader, said: "I, like many others, have been deeply appalled and distressed to witness the recent loss of innocent life in Gaza and I am pleased that council supported the coalition motion today.
"The Disasters Emergency Committee provides a very clear mechanism for providing much-needed aid to those affected by humanitarian crises and I hope that flying the DEC flag at the City Chambers, prominently featuring the appeal line number, will not only raise awareness of the crisis but lead to an increase in donations."