Huge mural painted in Edinburgh city centre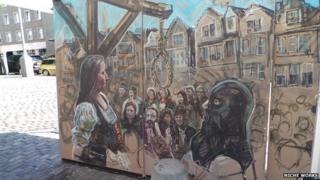 The scene of the hanging of Maggie Dickson in 1724 is being painted onto a giant 32ft double-sided canvas in Edinburgh's Grassmarket.
Edinburgh-born Chris Rutterford's 'live studio' will continue throughout August.
Maggie Dickson was sentenced to hang over the death of her newborn baby but was freed after surviving the noose.
Mr Rutterford is seeking volunteers to be included as faces in the crowd.
The completed mural will feature the gallows on one side and a traditional horse market on the other as the Grassmarket has been used for both over the centuries.
Historical figures
Mr Rutterford said: "I'm really hoping that we can bring some history back to life and get local people involved too as that's what makes community art so special.
"My murals capture history in action and I think that's why people find them so interesting to look at. It's a huge honour to be invited to paint in such historically significant places and in effect become a little part of their history."
Mr Rutterford will be painting the mural on weekdays until the end of August.
The project has been commissioned by Greater Grassmarket Business Improvement District.
Georgia Artus, Greater Grassmarket project manager, said: "In August the Grassmarket is normally filled with markets every day, and following feedback from businesses and locals we decided to do something different this year.
"Working with Chris to create this piece of public art is a fantastic start to what will be a year's worth of activities delving into the stories of the local area. We can't wait to see the faces of visitors, locals and historical figures intermingled in the mural.
"Our area is filled with fascinating local businesses, selling everything from homemade gelato and antique bookshops to fossils and tweed, and we hope this project will encourage visitors to explore and enjoy the area."