City of Edinburgh council plans widespread 20mph zones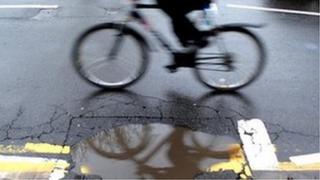 Plans to introduce 20mph speed limits across much of Edinburgh have been drawn up by the city council.
Members of the public are being asked to comment on the proposals.
A detailed map showing the planned 20mph zones is available on the council's website.
The local authority said research suggests more than two thirds of local people support the introduction of reduced speed limits on all city centre streets.
Lower speeds
Lesley Hinds, Edinburgh City Council's transport convener, said: "This consultation is a very important step in our journey towards a culture change in the capital regarding speed limits and we want to make sure as many people as possible have had the chance to comment on the proposals.
"A couple of things it's worth pointing out are that to reduce speeds, we'll concentrate mainly on signage, although physical measures like pedestrian islands may be required on some residential streets where speeds don't fall sufficiently with a signs and paint only approach.
"I also want to stress that speed humps will not be used on any main streets - ie those most likely to have bus services on them - which move to a 20mph limit.
"And the nature of the busier roads on which a 20mph limit is likely to be taken forward - the city centre, shopping streets and other roads with high numbers of pedestrians - means that impacts on bus journey times are expected to be very limited indeed."
Adam McVey, Edinburgh City Council's vice-transport convener, said: "Lower speeds in residential areas and shopping streets are not just good for safety and environmental reasons.
"Slower traffic makes streets more attractive to residents, pedestrians, cyclists and children, improves the environment for business and enhances quality of life.
"Don't miss your opportunity to help us draw up the map of 20mph streets - check out the consultation online, visit the public exhibition or drop in to one of our many information sessions and have your say."
The public consultation closes on Friday 17 October 2014.