Bus and tram in Edinburgh collision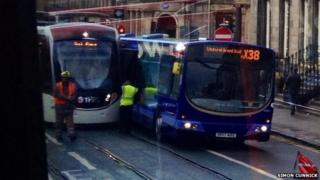 A bus and a tram have collided during the rush hour in Edinburgh.
The accident happened on West Maitland Street at about 07:45. Both vehicles were travelling east towards Princes Street.
Police said no-one was injured and the tram was not derailed.
The tram and bus were eventually separated and removed, but traffic was seriously disrupted with long delays before the road was reopened two hours later.