Edinburgh International Festival in record ticket haul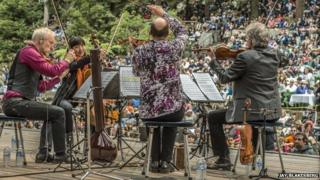 Organisers of this year's Edinburgh International Festival have revealed that ticket sales have passed the £3m mark for the first time.
Some 80% of available tickets were issued, and overall audience attendance is estimated at more than 415,000.
The curtain comes down on this year's festival with a Scottish Chamber Orchestra fireworks concert on Sunday.
The spectacle will mark the end of Sir Jonathan Mills's eight-year tenure as EIF director.
This year's festival presented more than 2,400 artists from 43 nations and took more than £3.15m in ticket sales income.
Details of ticket sales comes on the same week as it was revealed the Edinburgh Fringe had broken the two million ticket barrier for the first time in its 67-year history.
Among this year's programme highlights were stagings of The James Plays by Rona Munro, Inala featuring Ladysmith Black Mambazo, Pina Bausch's Sweet Mambo, Back to Back's Ganesh versus the Third Reich and a concert series at the Usher Hall.
'Epic to intimate'
Mr Mills said: "The true measure of success is the audience's experience and we've received so much great feedback. There has been a fantastic atmosphere at shows across the festival.
"Our audiences from Scotland, the UK and 75 other nations around the world have greeted our artists with huge warmth, with so many of those artists telling me how exciting it is to play to such enthusiastic and knowledgeable audiences, and enjoying their visit to Edinburgh immensely.
"Once again we've been treated to the world's finest artists sharing their creativity and their work, which has ranged from the epic to the intimate, from east to west and everywhere in between."
Since his first festival in 2007, Mr Mills has presented programmes with themes ranging from the Scottish Enlightenment to the influence of the cultures of Asia on western artists.
Under his leadership, the EIF has also organised international launch events in more than 35 cities around the world.
He caused controversy last year when he announced that the 2014 festival would not feature any productions related to the independence referendum.
He said: "It has been an incredibly exciting and challenging eight years in the one of the best jobs in the world.
"The audiences, the stakeholders, the artists and the staff have made it such a pleasure.
"I wish Fergus Linehan, my successor, the very best in taking the festival forward into the future."
Mr Linehan succeeds the current festival director Jonathan Mills on 1 October.