Scottish independence: Stuart Mackenzie sentenced over Jim Murphy egg incident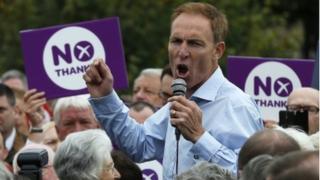 An independence supporter who admitted throwing eggs at MP Jim Murphy in Fife has been sentenced to 80 hours unpaid work on a community payback order.
Stuart Mackenzie, 45, was at Mr Murphy's 100 Towns in 100 Days tour in Kirkcaldy last week.
However, when the Labour MP for East Renfrewshire failed to answer a question posed by MacKenzie, he decided to take action.
He walked to a nearby Tesco and bought eggs before throwing them at Mr Murphy.
Mackenzie had asked the question: "What do you have against democracy".
David Cranston, defending, said Mackenzie had lashed out because of a "lack of interaction" with the MP - but said he did not condone "organised, concerted disruption" of the politician's campaign trail.
Kirkcaldy Sheriff Court heard Mackenzie handed himself into police on Wednesday after media coverage of the incident.
Mackenzie, from Kirkcaldy, pleaded guilty on summary complaint to a charge of assault.
Shameful behaviour
Mr Cranston said Mackenzie was a supporter of Scottish independence.
He said: "He recognises that this was shameful behaviour.
"He lives overlooking the scene and went down to take part and ask Mr Murphy a question.
"He was irritated that he didn't get a response and there was an altercation with a photographer who he thought was an official photographer and he got in a bit of a state.
"He's not part of any concerted attempt to disrupt meetings by Better Together and if there are concerted efforts he wants no part of them."
Sheriff Kenneth McGowan said: "We are very fortunate that we live in a stable democracy where political discourse can be taken freely without risk of violence or disorder.
"From time to time passions may become inflamed especially when there is a major political event carrying on.
"These were really childish antics.
"My main concern is that this took place in front of a large number of people and it could have triggered disorder.
"You would have had no control over it and it could have got out of hand."
Mr Murphy, the Labour MP for East Renfrewshire and former Scottish Secretary, suspended his tour of Scotland last week following the egg incident.
He has since resumed his high street campaigning.