Crown Office employee Iain Sawers guilty of leaks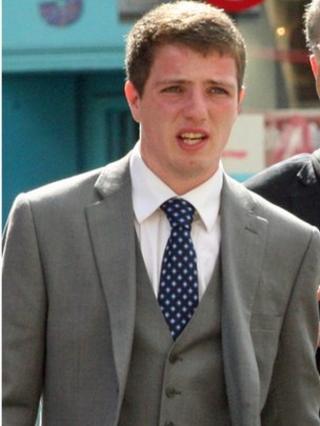 A Crown Office employee has been found guilty of breaching the Official Secrets Act and Data Protection Act by leaking information about court cases.
Iain Sawers, 25, from Edinburgh, was found guilty at the end of a seven-day trial at Edinburgh Sheriff Court.
A jury found him guilty on a charge of attempting to pervert the course of justice, the Official Secrets Act and nine under the Data Protection Act.
The sheriff said he was considering imposing a custodial sentence.
Sentence was deferred until 19 September. Sawers was bailed.
Sawers joined the Productions Office of the Procurator Fiscal Service in Chambers Street in the city in 2008.
His induction covered security of information and the warning that any breach could lead to disciplinary proceedings. He was also told, under the Official Secrets Act, the unauthorised disclosure of documents was an offence.
The offences by Sawers came to light when police began an investigation into the case of 27-year old Calum Stewart on charges of breach of bail and attempting to pervert the course of justice by threatening his ex-partner, Kelli Anne Smillie, if she gave evidence in a trial in July, 2013.
Stewart paid for her and her mother to leave the country and go on holiday to Benidorm on the week of the trial.
The police investigations led them to a number of phone calls and text messages between Stewart and Sawers between 24 and 29 January 2014.
These led to Stewart phoning Kelli Anne threatening her and her mother. They were to be witnesses in the outstanding trial which has since been deserted by the Crown.
The police also recovered Sawers' iPhone. Although many messages had been deleted, forensic experts were able to recover them and the telephone numbers of the senders and receiver. They showed that between April 2008 and January 2014, Sawers had passed on information to other people on nine occasions.
Future victim
A check on the productions office computer showed shortly after receiving a call, Sawers' secret personal user number was used to access the information.
The jury also found Stewart guilty of attempting to pervert the course of justice and breach of bail. Neither men gave evidence during the trial.
In his closing address to the jury, Fiscal Depute, Keith O'Mahony told them: "This trial is about you as members of the public, who at some time in the future may be the victim of a crime.
"If you are, you will go to the police and they will bring the case to the Crown Office and Procurator Fiscal Service.
"When you report that case you must have confidence your details - name, address, date of birth and telephone number will be kept safe, secure and confidential and not disclosed to others, particularly to people who may wish to harm you."
Sheriff Kenneth Maciver told Stewart, who has 15 previous convictions, that custody was inevitable.
"Sawers, who has no previous convictions, was told: "You were a member of the Procurator Fiscal Service, in a position of trust and that trust was betrayed. That has an effect on the reputation of the Procurator Fiscal Service and public confidence in it."