Walter Scott's Waverley goes on show in Edinburgh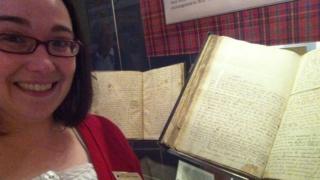 The world's first bestselling novel is going on display to the public, 200 years after it was published.
The manuscript of Sir Walter Scott's Waverley is at the centre of an exhibition at the National Library of Scotland in Edinburgh.
Curator Helen Vincent said Scott was "such a fantastic storyteller you really want to know what happens next".
"You can see somebody trying to make his mind up about the big political decisions of the day", she said.
"There's nothing more relevant to what's going on in 2014."
But is that claim borne out in practice?
None of Sir Walter Scott's novels are on sale at the book store on Waverley station, which is named after the book.
Jacobite rising
And outside the station, in the shadow of the Scott Monument on Prince's Street, most passers-by interviewed by BBC Radio's Good Morning Scotland programme had either never read any of his books, or at least not looked at them since school.
One woman remembered reading some Scott, but couldn't remember which novels. "I was a child at the time", she laughed. A young man said he felt "guilty" about not being into literature, but insisted music and films were really his things.
Another man said he'd tried reading the classics, but the old fashioned language in Dickens had put him off. And a young woman said she'd climbed Scott's monument, but never read any of his books.
Waverley is set against the backdrop of the 1745 Jacobite rising and is widely regarded as the first proper work of historical fiction. At the time it was published it was a phenomenon.
The first edition, of 1,000 copies, sold out in just two days despite Scott's publisher's nervousness about the author's insistence on remaining anonymous.
Ms Vincent said: "He was a really successful poet, one of the biggest selling writers of the day.
"I think he was maybe a bit nervous about trying something new, just like J.K. Rowling when she published her detective fiction under a pseudonym.
"He wanted the freedom to be creative in a completely different genre."
As a storyteller, Scott created his own mythology about the writing of the book. He insisted he had begun it in 1805, 60 years since the events it depicted.
In his account he had abandoned the work after it was criticised and only rediscovered it when he was looking for some fishing tackle for a friend.
But the exhibition gives an insight into his creative process. It includes a letter to a friend, in which he muses on the '45.
"He says he's always been fascinated by it, and he really wants to try and preserve some of these stories", Ms Vincent said.
"Maybe he should write a poem about it. Maybe he should write a historical book.
"And you can see how those two impulses to do something creative, and something that's historically accurate, converge in his mind and he ends up writing a historical novel."