Corstorphine Hill trial: Date set for decision on James Dunleavy leaving Carstairs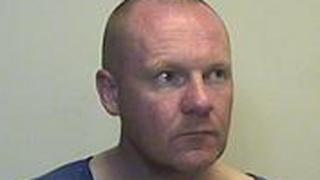 A judge has set a date for a hearing which will decide whether a man who beheaded his mother should leave a top security psychiatric hospital for jail.
James Dunleavy, 40, believes he is fit to leave Carstairs and also claims he could not find a good chess opponent at the high-security psychiatric hospital.
A trial heard Philomena Dunleavy, 66, from Dublin, may have been alive when her son cut off her legs in his flat.
Her remains were found in a shallow grave on Edinburgh's Corstorphine Hill.
On Thursday, Lord Jones set a date for next month in which he will decide whether Dunleavy should leave Carstairs in Lanarkshire for life in the Scottish prison system.
Conventional jail
He made the decision at a hearing at the High Court in Edinburgh in which he was told doctors needed more time to assess the state of Dunleavy's mental health.
They may decide his psychiatric condition is of such a complicated nature he could never be transferred to a conventional jail.
Labourer Dunleavy, who worked on Edinburgh's trams project, originally denied murder and attempting to defeat the ends of justice by burying her to try to cover up the crime at his trial earlier this year.
A jury at the High Court in Edinburgh convicted him, by majority, of a reduced charge of culpable homicide. They also found him guilty of the attempted cover-up between April and July last year.
Mrs Dunleavy, a mother-of-five, had left her Dublin home in early April last year and arrived in Scotland on April 24 to visit her eldest son.
Prosecutors alleged days later she was dead, killed in Dunleavy's flat in Balgreen Road, Edinburgh.
Medics could not tell how she died. Injuries to her head, smashed ribs and damage to small bones in her neck, often linked to strangulation, could have been sustained after her death.
Lord Jones continued the hearing to 16 October 2014. The hearing will take place at the High Court in Edinburgh.