Pupils to attend referendum count in Edinburgh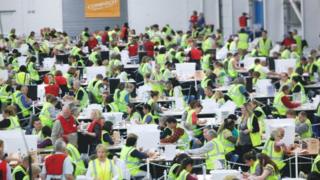 A pupil from each high school in Edinburgh is to be picked to attend the capital's referendum count overnight.
The 23 pupils will be the guest of Edinburgh city council's chief executive and the city's counting officer, Sue Bruce.
They will all be first time voters and will attend the count at Ingliston between 22:00 on Thursday and 07:00 on Friday 19 September.
The pupils will have access to all areas so they can watch proceedings.
Mrs Bruce said: "This will be an exciting, once in a lifetime, opportunity for these first time voters and an experience they will never forget."