Large numbers of baby gannets or 'gugas' found dead in East Lothian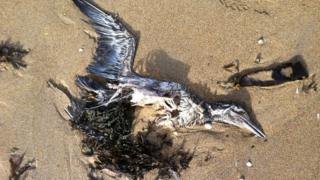 Large numbers of dead and dying young gannets have been found on the East Lothian coast.
The birds, known as gugas, have been washed ashore after leaving their nests on the Bass Rock in the Firth of Forth.
The Bass Rock is one of the world's biggest gannet colonies and every autumn between 10,000 and 20,000 young birds leave their nests.
The gugas are heavier than adult gannets and are unable to fly until they lose weight.
Their first few days at sea are perilous and they are unable to feed for themselves so many fail to survive.
The prevailing weather conditions in recent days have led to hundreds of birds being washed ashore.
Wildlife experts said it may be distressing for members of public, but it's simply "nature in the raw".
Walkers who find live gugas in distress are being advised to keep their distance and contact the Scottish Seabird Centre in North Berwick or the Scottish SPCA.
Weather change
Tom Brock, chief executive of the Scottish Seabird Centre, said: "We have had a few reports of people finding seabirds washed up on the beaches in and around North Berwick.
"At this time of year, and with the change in weather, it is likely that these will be juvenile gannets, known as gugas.
"Aged just 12 or 13 weeks old, gugas are a similar size to adult gannets but have dark plumage which is speckled with flecks of white.
"After leaving their nests on the Bass Rock, the young gannets, heavier than the adults and unable to fly until they lose weight, will float on the sea for several days.
"No longer under the care of their parents, their last meal would have been in the nest and this can mean that they have not fed for several days. Weakened, and in tough weather conditions, sadly many get into difficulties."