Four detained over shootings in Gilmerton and The Inch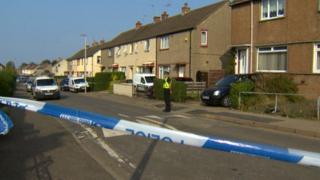 Four men have been detained by police during dawn raids carried out by armed police in the south of Edinburgh as part of a crackdown on organised crime.
It follows shootings in Gilmerton and The Inch recently. A 32-year-old woman was also arrested on Wednesday.
Three men aged 18, 19 and 22 are due to appear at Edinburgh Sheriff Court on Monday. A 52-year-old man will appear in court at a later date.
Police appealed for information about the shootings.
Det Supt David Gordon, of Police Scotland, said there would be more arrests.
He said: "We are carrying out interviews, searching premises and acting on intelligence and information provided by the public.
"The detentions today are as a result of geographically-focused disruption following the discharge of firearms.
"Police Scotland will use all tactics at our disposal to prevent gun crime and the simple way to avoid police enforcement is to have nothing to do with firearms or others who use them."
He added: "Our inquiries are continuing into the incidents over the last couple of weeks and there will be further enforcement activity and more arrests.
"We will maintain a visible and strong position within the south of the city to demonstrate that this unacceptable behaviour will not be tolerated and anyone in possession of illegal firearms will be dealt with robustly."