Mohammad Asghar 'to return to jail where he was shot'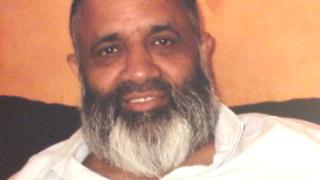 Lawyers acting for a Scot who was shot by a prison guard in Pakistan have called on the prime minister to intervene, after reports he will return to the jail where he was attacked.
Mohammad Asghar, who suffers from paranoid schizophrenia, was sentenced to death for blasphemy in January.
The 70-year-old has been in hospital since he was shot in the back on Thursday at Adiala jail in Rawalpindi.
The charity Reprieve has asked David Cameron to act to ensure his safety.
Reports that the Pakistani authorities intended to return him to the prison where he was shot have led to new concerns for the Edinburgh businessman's safety.
Reprieve said the prison does not have the facilities to adequately treat individuals with mental illness as severe as Mr Asghar's. His lawyers have also noted a marked deterioration in his condition following the recent attempt on his life.
The charity has written to the Prime Minister, asking that all possible steps be taken to ensure that Mr Asghar is held in a secure facility where he can receive adequate treatment for his injuries and mental health problems.
Maya Foa, director of Reprieve's death penalty team, said: "To move Mr Asghar to a prison now, where there is no way of guaranteeing his safety, would be to effectively hand out a second death sentence that could be carried out at any moment.
"The British government simply cannot allow this to happen. They must ensure that he is held in a secure medical facility where he can receive the treatment he so desperately needs, both for his recent injuries and his existing mental illness."
Mr Asghar moved to Pakistan in 2010.
He was later arrested for writing several letters claiming to be a prophet and was sentenced to death for blasphemy.
Lawyers filed an appeal against his conviction in February, and pointed out that judges at his original trial refused to consider clear evidence of his mental illness.
However, according to Reprieve, it can often take five years or more before an appeal is heard.
In a press conference in Edinburgh on Friday, Mr Asghar's family asked the government to help.
'Properly protected'
His daughter, Jasmine, said: "Our father is a very mentally ill man. He has been unwell for a very long time and in 2010 he was diagnosed as suffering from paranoid schizophrenia by his doctors here in Scotland.
"We are begging David Cameron and the whole of the British government to do everything they can to ensure that as soon as he is well enough to travel our father is brought back to the UK where he will be safe.
"Until then, we want him to be kept in a hospital where he will be properly protected and treated.
"He has now been in prison for four years and is basically being punished because he is sick."
A prison guard, Mohammad Yousuf, appeared in court in Rawalpindi on Friday accused of the shooting and was remanded in custody.