Fife Animal Park owner admits animal welfare charges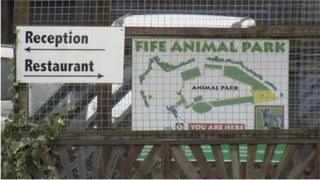 A former zoo owner has admitted to a string animal welfare charges.
Peter Lockhart was the co-owner of the Fife Animal Park, Cupar, which closed in February after it could not be sold.
He admitted to failing to ensure the welfare of the animals in his park and trading in endangered species without a licence.
Mr Lockhart, 50, of Glen Newton, Newton of Falkland, Fife, pleaded guilty to nine of 16 charges. Sentence was deferred for two months.
Dundee Sheriff Court heard that for almost nine months leading up to the park's closure Mr Lockhart had failed to ensure the needs of the "fish, reptiles, birds, mammals, primates and rodents" within the park were met.
Suffering and disease
He admitted that he "failed to provide a suitable, clean and ventilated environment with adequate cover and bedding."
Mr Lockhart also admitted failing to provide a suitable diet for the animals or adequate treatment for conditions they were suffering from. He admitted his failure to protect them from injury, suffering or disease.
He further admitted breaching Control of Trade in Endangered Species Regulations, and displaying animals including ring-tailed lemurs, wild cats and a Lesser Sulphon crested cockatoo for commercial purposes without a license.
The court heard that Mr Lockhart also displayed and offered for sale three Hermanns tortoises at the park between 27 June 2010 and 14 February 2014.
Mr Lockhart faced a total of 16 charges. The Crown accepted his plea of guilty to nine and not guilty to seven, including charges of not having a "horse passport" for a zebra at the park.
Sale blocked
John McLaughlin, defending, said Mr Lockhart was about to leave the country to visit the Philippines for two months.
He said: "In the circumstances the court may be thinking of something more than a fine."
Sheriff David Hall deferred sentence.
Fife Animal Park closed to the public in February. The 10-acre park housed 76 species including a zebra, Shetland ponies, meerkats, raccoons and owls.
The park was put up for sale in 2013, but this was blocked by the charity regulator as it wanted to clarify which animals were owned by the Fife Animal Trust.
Shortly after its closure, Fife Council's protective services senior manager Roy Stewart said: "The welfare of the animals at Fife Animal Park is our primary concern at this time.
"Although Fife Council doesn't own the park or the animals it has a duty to protect them and legally they are now in our care."
Shortly after its closure nine wallabies and an emu were adopted by the Five Sisters Zoo in West Calder.