Call for urgent talks on future of Longannet power plant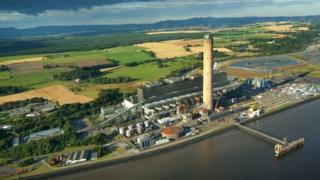 Scotland's energy minister is calling for talks with the UK government over the future of Longannet power station.
It comes after it emerged Scotland's largest power plant may have to close owing to the £40m cost its operator pays to connect to the National Grid.
Scottish Power said Longannet's Fife location puts it at a disadvantage when competing against English plants.
Scotland's energy minister Fergus Ewing wants talks with UK Energy Secretary Ed Davey to discuss the situation.
A Department of Energy and Climate Change spokesman said Longannet's future was a commercial matter and said Scottish Power had no plans to close the plant.
Scottish Power has decided not to enter the contest to supply energy generating capacity in 2018/19, arguing financial changes are needed to avert the threat of closure.
The National Grid said it had been working closely with the industry and Ofgem to review the charging regime.
Longannet, one of the largest coal-fired power stations in Europe, generates enough electricity each year to meet the needs of more than two million homes and plays a vital role in keeping the power network stable and safe.
The UK's transmission charging regime is designed to encourage the power companies to invest in generation capacity close to the largest centres of population in central and southern England.
Mr Ewing said: "UK energy policy and regulation has endangered security of supply, has damaged investment in renewable energy and now threatens Longannet.
"During the referendum campaign the UK government made much of the so-called benefits of the UK for energy policy but the reality on the ground is now plain for all to see.
"The UK government has completely failed to manage the electricity system properly and unfortunately the consequences are now being felt."
The energy minister claimed Longannet was being priced out of the market.
"We need an urgent rethink on policy for baseload capacity and reform of the UK transmission charging system. I will be writing to UK Energy Secretary Ed Davey to seek an urgent meeting to discuss the future of Longannet and wider energy security," he added.
'Critical investment'
The Department of Energy and Climate Change spokesman said: "Energy transmission is something the UK government takes very seriously and Scotland is set to benefit from critical investment of up to £6bn between 2013-21, nearly 30% of total earmarked for upgrades across Britain.
"Ofgem has also approved a significant change that will reduce future charges in Scotland, which is planned to be introduced from April 2016.
"This is on top of the reductions consumers in remote regions of Scotland receive to offset higher transmission charges, with the costs spread across millions of UK bill payers."
The Scottish government said that Scottish generators accounted for about 12% of the capacity connected to Britain's high-voltage electricity network but paid about 35% of the charges.
Scottish Power said it would "fully explore" all options to keep Longannet operational for as long as possible and will hold talks with the National Grid, Scottish government and Department for Energy and Climate Change.