Hotel manager Mark Flay's jail term quashed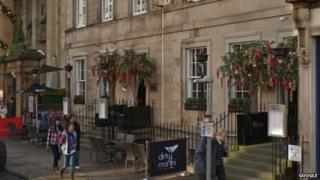 An Edinburgh hotel manager who stole £18,000 from his employers has had his jail sentence quashed and been ordered to pay compensation.
Mark Flay, 26, was given a 12-month prison sentence after pleading guilty to stealing from Le Monde hotel between 11 October 2012 and 4 March 2013.
CCTV footage showed the 26-year-old opening a till and taking cash.
At the time the sheriff refused an appeal for a deferred sentence to allow Flay to finish his university course.
Following a hearing at the Court of Criminal Appeal in Edinburgh on Thursday, Flay had his jail sentence quashed.
Appeal Court judges ruled the sentence was too harsh and ordered Flay to repay the £18,000 to his former employer.
Lady Clark of Calton and Lord Eassie also ordered Flay, from Uphall, West Lothian, to pay the court a £1,000 fine.
Lord Eassie said: "We are persuaded the appellant is genuinely remorseful."
On Thursday, the court heard that Flay was a first offender who could afford to pay the cash back.
Lord Eassie ordered Flay to pay the £18,000 back at a rate of £400 per month.