World's End murders: Man on trial over 1977 deaths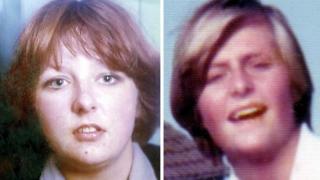 A jury has been shown photographs of the bodies of two teenagers found murdered in East Lothian 37 years ago.
Helen Scott and Christine Eadie were last seen at the World's End pub in Edinburgh in October 1977.
The jury at the High Court in Livingston was also shown where their bodies were later found.
Angus Sinclair, 69, denies murdering the 17-year-olds after raping and strangling them on 15 and 16 October, 1977.
He claims his late brother-in-law Gordon Hamilton committed the murders.
Retired police map maker Thomas Graveson told the court he had marked two sites in East Lothian where Ms Eadie and Ms Scott were found dead.
Map evidence
He said Ms Eadie was found in a field near Gosford House beside the A198 road leading from Gosford Sands.
Ms Scott was found in another field between the villages of Coates and Huntington.
However, under cross-examination by defence counsel Iain Duguid QC, Mr Graveson admitted that the maps were recent and showed what the area looked like today rather than in 1977.
Mr Sinclair is alleged to have gagged the girls, bound their wrists and tied a ligature around their necks.
He denies inflicting blunt force injuries on Ms Eadie by repeatedly punching and kicking her on the body and biting her.
He also denies forcing Ms Scott to walk barefoot into a field, ripping the strap from her handbag, repeatedly punching and kicking her on the head and body and stamping on her head.
He also denies stealing clothing, footwear, jewellery and other personal effects from the teenagers in an attempt to pervert the course of justice.
Mr Sinclair has lodged three special defences, of incrimination, consent and alibi.
The jury of nine men and six women have been told that the case is expected to last two to three weeks.