Edinburgh Castle has record-breaking summer for visitor numbers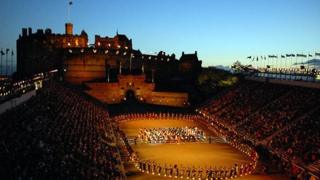 Edinburgh Castle, Scotland's top paid-for tourist attraction, has had a record-breaking summer for visitor numbers.
The castle saw 767,566 visitors between June and September, a 3% increase on the previous record in 2013.
The castle is one of several Historic Scotland sites with record-breaking visitor numbers over the summer.
Skara Brae and Bishop's and Earl's Palaces in Orkney both recorded rises of 11%.
Meanwhile, heritage attractions such as Stirling Castle - the former home of Mary, Queen of Scots and Urquhart Castle on the banks of Loch Ness also had record-breaking numbers, welcoming 256,035 and 220,025 visitors each.
'Fantastic figures'
In total, 2,141,082 people visited a Historic Scotland site between June and September 2014, a 4% increase on the previous record.
Culture Secretary Fiona Hyslop said: "These are fantastic figures which showcase the continued appeal of Scotland's historic attractions to visitors from both home and abroad.
"2014 was a memorable summer for Scotland - with an influx of visitors to events such as the Commonwealth Games and the Ryder Cup as well as a whole host of Homecoming related events taking place up and down the country.
"Our heritage sites played a key role within this and continue to be a constant and hugely important asset at the heart of our tourism and cultural make-up."
Stephen Duncan, director of commercial and tourism for Historic Scotland said: "It has been a very strong summer season for visitors to our sites.
"Whilst the majority of the growth in visitor numbers has been experienced at our three biggest sites - Edinburgh Castle, Stirling Castle and Urquhart Castle, it is fantastic to see that growth emulated across many parts of the estate."