World's End murders: Father learned of body find on radio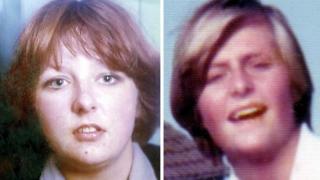 A father has told a murder trial he heard on the radio two bodies had been found in East Lothian the day after his daughter failed to return home.
Morain Scott, 84, has started giving evidence in the trial of Angus Sinclair, 69, at the High Court in Livingston.
Helen Scott and Christine Eadie, both 17, were last seen at the World's End pub in Edinburgh in October 1977.
Mr Sinclair denies murdering the girls after raping and strangling them.
Mr Scott's daughter Helen was found murdered in a field near Haddington in East Lothian.
Her friend Christine Eadie was found about six miles away in Aberlady.
Mr Scott said his daughter had told his wife she would be going out straight after work on 15 October 1977 but she never came home. He said she had never stayed out all night before.
He told the court his wife stayed up all night waiting for Helen to come home and he did not really sleep.
Deaths anniversary
The next day they looked for the girls at Christine's flat but there was no reply. They then reported her missing to police.
When they got home they heard on the radio that a body had been found near Aberlady - shortly after that it was reported that another body had been found near Haddington.
Mr Scott said: "I thought God, surely it can't be her and Christine."
He told the court police officers later visited with items of Ms Scott's clothing, including a new coat she had bought a few days previously. Mr Scott later identified her body.
Asked by Mr Mulholland about how his daughter's death had affected the family, Mr Scott said: "My wife, she was never the same... as far as I was concerned it was the start of her health going down.
"From my own point of view I have had to live with it for 37 years and I have kept it to myself because I didn't want to bother anyone else.
"I have just kept going. Simple as that."
Special defences
Morain Scott said his wife, who has since died, was never the same after Helen's death.
Meanwhile, Margaret Craig, 77, said she last saw her daughter Christine Eadie on Thursday 13 October 1977 when she visited her after work.
She said she hadn't been worried about her daughter's whereabouts until police came to her door late in the evening of Sunday 16 October.
Wednesday is the anniversary of the girls' deaths.
Mr Sinclair is alleged to have gagged the girls, bound their wrists and tied a ligature around their necks.
He denies inflicting blunt force injuries on Ms Eadie by repeatedly punching and kicking her on the body and biting her.
He also denies forcing Ms Scott to walk barefoot into a field, ripping the strap from her handbag, repeatedly punching and kicking her on the head and body and stamping on her head.
He also denies stealing clothing, footwear, jewellery and other personal effects from the teenagers in an attempt to pervert the course of justice.
Mr Sinclair has lodged three special defences, of incrimination, consent and alibi.
The case is expected to last two to three weeks.