House in Whitburn 'gutted' by bedroom fire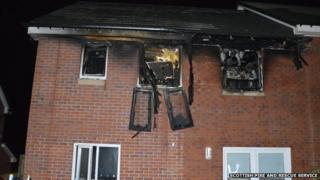 The first floor and roof space of a house in West Lothian has been gutted by a fire.
Four fire crews worked to put out the blaze after being called to the scene in Whitburn just after 18:00 on Wednesday.
A woman in the house had been cooking and heard the smoke alarm but did not go to investigate until a neighbour knocked on her front door to alert her.
It is thought the fire started in an upstairs bedroom.
Scottish Fire and Rescue Service group manager David Lockhart said: "Firefighters worked hard to limit the damage caused by the fire.
"The first floor of the house is gutted with some damage to the roof space."
He added: "Our fire investigation team were called to investigate the cause of the fire, which we believe started in the rear bedroom.
"Our investigations are still ongoing at this time."