Sister loses out over Dunfermline Press tycoon's £3m change to will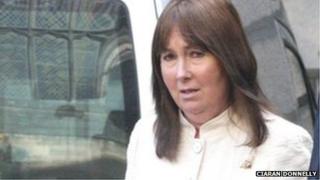 The sister of a dead newspaper owner has lost her bid to have the tycoon's multi-million pound will set aside.
Elizabeth Smyth, 61, claimed the ex-husband of Deirdre Romanes persuaded her to change her will days before she died from cancer in May 2010.
She said the switch allowed Iain Romanes, 66, to pump £3m into the Dunfermline Press media group and cost her nearly half of her inheritance.
Her claim was dismissed by judge Lord Glennie at the Court of Session.
Ms Smyth, from County Meath in Ireland, had claimed the last-minute change benefited Monaco-based Mr Romanes, who held a substantial stake in the debt-ridden newspaper publishing company.
She took the case to the Court of Session earlier this year in a bid to have the May 2010 will set aside in favour of its 2008 equivalent.
But in a written judgement, Lord Glennie ruled that Mr Romanes had not been influenced by her ex-husband when she changed her will.
He also said the businesswoman's decision-making abilities had not been affected by the powerful painkillers she was taking for her cancer.
Lord Glennie wrote: "Her sister is the biggest loser by these changes. She cannot accept that Deirdre wanted to do this.
"Having heard all of the evidence, however, having listened carefully to and read the pursuer's submissions and having given the matter careful consideration, I am satisfied that the pursuer's case must fail."
Mrs Romanes, 60, was in charge of the Dunfermline Press, which owned several local newspapers and other media outlets throughout the UK.
The company later went into receivership but Mrs Romanes and her fellow executives spent time trying to save the firm.
The court heard how Mr Romanes left his wife nine years earlier for another woman but spent time with Mrs Romanes in her home in Heriot Row in Edinburgh's New Town.