Rescued lions appeal by Five Sisters Zoo raises £10,000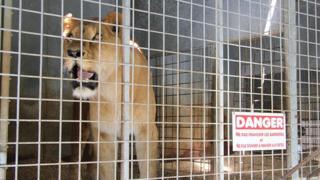 A Scottish zoo hoping to provide a new home for four lions confiscated from a circus in Belgium has raised more than £10,000 in just two weeks, following an appeal.
Five Sisters Zoo in West Calder, West Lothian, wants to build a new enclosure for the male lions on a two-acre site.
It aims to raise £150,000 for their new home over the next six months.
The lions were seized by Belgian officials in May because the country's law forbids wild animals in circuses.
They have been living at a Belgian rescue centre ever since but a permanent new home is needed for them.
'Enormous undertaking'
Their exact history is not known but they have no manes as a result of being castrated. It is thought they were born in captivity and sold to the circus at a young age.
The circus was performing in the city of Luik, in French-speaking Belgium, when government officials seized a trailer and took the lions to a rescue centre.
Five Sisters Zoo, which was hit by a fire last year, has already successfully re-homed three former circus bears after launching an appeal in August 2011.
Brian and Shirley Curran, owners of the Five Sisters Zoo, said: "This is an enormous undertaking for us but with all the pledges of help we have had we are confident that we can make this happen.
"We had not intended asking for public donations but the overwhelming response was that the public want to help and for this we are so grateful."