Winter road services 'fastest ever' says transport minister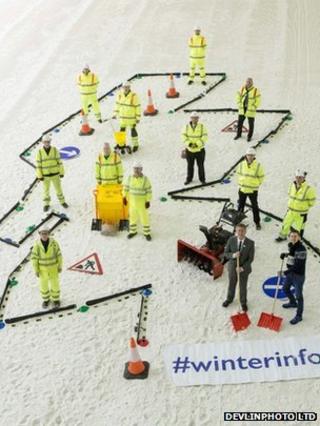 Roads will be serviced quicker than ever when snow and ice hit this winter, according to Transport Minister Keith Brown.
Mr Brown said new contracts with all four trunk road operating firms would bring about improved services.
He said it was important for the transport authorities to be prepared for unpredictable circumstances.
And he revealed Scotland has more salt in stock for use on the roads than was used in the whole of last year.
As part of the enhanced services, monitoring systems will provide real-time information on road conditions and staff in 44 depots across Scotland will work 24 hours a day to respond immediately to problems.
Meanwhile, the Traffic Scotland website will provide updates for travellers, as will the Twitter hashtag #winterinfo, to ensure the public are aware of conditions as quickly as possible.
Mr Brown said: "We have been lucky in Scotland and the last two winters have been relatively mild in comparison to the previous years.
"However, it is important that we remain alert to the changes in conditions that winter can bring and we are prepared to meet those challenges."
---
Enhanced services include:
Treatment times for spreading salt ahead of snow storms more than halved from five hours to two hours across the country.
Plant used for patrols to be fully loaded with de-icing material as well as salt.
Additional winter service footway responsibilities on the operating company, including the application of liquid de-icers.
Operating company required to provide storage facilities for 25,000 tonnes of strategic salt.
Companies to have a larger pool of staff trained in resilience operations.
Key parts of the network strengthened with increased camera infrastructure.
New mobile road condition sensors will be operational on the A9 and the A90 for this season, in order to help inform decision makers of real-time conditions.
---
Mr Brown said he was confident in the capacity of the systems in place to deal with a major incident should it occur.
The transport minister was speaking at an event where he met staff from the companies that service Scotland's roads.
Public Responsibility
Representatives from these companies emphasised that although they will do all they can to keep the roads clear this winter, the public also has a role to play.
Brian Gordon, managing director of BEAR Scotland, the company responsible for trunk roads in the north of Scotland, said: "We ask that motorists play their part by being fully prepared for winter too.
"This includes ensuring their vehicle is well maintained and that they carry equipment to help themselves should conditions deteriorate."
Russell Rennie, contract director for Scotland TranServ, which operates trunk roads in the south west, added: "We work together with our partners to ensure road users are kept informed 24/7 on current road conditions and potential issues, ensuring the public can make informed driving choices.
"While we are playing our part in keeping south west Scotland's roads safe we would ask road users to stay informed and ensure that they always drive according to road conditions."