Habitual speeding from driver who killed two in Kirkcaldy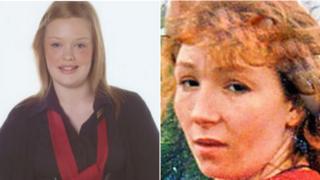 A driver who fatally injured two women had broken the speed limit at least 80 times in the weeks before the accident.
James Clunie, 36, admitted causing the deaths of Jane MacDonald and Abby Hucknall at a crossing point in Fife in 2012.
The High Court in Edinburgh heard he was driving a Land Rover Discovery, provided through his insurance company and fitted with a tracker device.
It showed in the weeks before the crash he drove at speeds of up to 115mph.
Clunie from Kirkcaldy, has previous speeding offences and driving bans.
The tracking device also showed that he drove at more than treble the speed limit in a residential area in a village.
'Utterly shocking'
Clunie, a mechanic, admitted causing the death of mother-of-three Ms MacDonald, 37, and Ms Hucknall, 18, by careless driving on 27 November 2012 after driving at excessive speed in Dunnikier Way, Fife.
He also admitted driving dangerously on various occasions between 25 October and 27 November in 2012 by driving at grossly excessive speed at various locations in Fife including Kirkcaldy, East Wemyss at the A92 at Cowdenbeath and Cardenden and on the M8 in North Lanarkshire.
Judge Lord Turnbull told him: "It is plain I have been given a description of utterly shocking conduct."
The court heard that he had been banned from the road on three previous occasions and had his licence endorsed for speeding and using a hand held mobile phone while driving.
'Extremely distressed'
The two women had left their Fife home to go to the supermarket when witnesses heard the screeching of tyres, a scream and a thud.
Ms MacDonald's son and Ms Hucknall's partner, Joseph Jones, who has since died, heard the noise and went to the scene moments after the collision.
Mr Scullion said: "He found his mother and his girlfriend lying on the roadway and was extremely distressed."
An off-duty fire fighter and ambulance technician tried to help the women, but both died.
Collision investigators concluded that the car was travelling at least at 52mph at the start of emergency braking. The speed limit in the area was 40mph.
Reaction time
Advocate depute John Scullion QC said: "It is accepted by the accused that the extra speed patently reduced his ability to react and increased the speed at which the impact occurred."
He added: "It is accepted by the Crown that albeit it was dark, the Land Rover was appropriately lit; that the deceased crossed against a 'red man' and that the deceased would have been in the roadway for between 0.5 and 1.5 seconds, depending upon whether they were walking or running."
Defence counsel Brian McConnachie QC described a custodial sentence as "inevitable".
Lord Turnbull rejected a move to continue Clunie's bail ahead of sentencing.
He adjourned the case until 1 December at the High Court in Glasgow for the preparation of a background report.