Men in court over alleged Edinburgh council building 'bribes'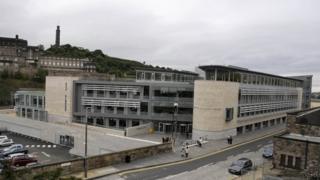 Eight men have appeared in court charged in connection with alleged bribes to Edinburgh council officials for building repair contracts.
Kevin Balmer, Brendan Cantwell, Gordon McKenzie, and Graham Campbell are employees of ABC Ltd.
They are alleged to have given money, hospitality and goods to council workers Charles Owenson, Martin Rennie, James Costello and John Markham.
The men deny the charges and a trial date has been set for next May.
The four builders and four council workers appeared at Edinburgh Sheriff Court.
It is alleged that between 6 January 2006, and 10 November 2010 Mr Balmer, Mr Cantwell, Mr McKenzie and Mr Campbell corruptly gave or caused to be given sums of money, hospitality and goods and services to Mr Owenson, Mr Costello, Mr Rennie and Mr Markham in respect of the allocation of a number of contracts for the repair and maintenance of public buildings, contrary to the Public Bodies Corrupt Practices Act 1889.
It is claimed that £61,904 was paid over in money, £35,749 in hospitality and £2,672 in goods and materials.
The ABC Ltd employees also denied that they added the costs of the alleged bribes to the invoices they submitted to the city council for the legitimate work they had carried out.
We have been asked to make clear that the accused are not associated with Advanced Building Contractors of Milngavie, a company also known as ABC Ltd.