Madison Horn murder: Kevin Park found guilty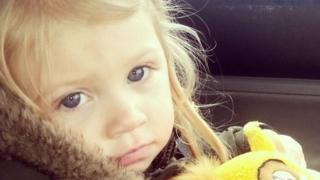 A man has been sentenced to life in prison after being found guilty of the murder of a two-year-old girl in her own home.
Kevin Park pulled Madison Horn's hair, lifting her up and repeatedly striking her head against a wall. He also repeatedly hit the toddler.
Park will have to serve at least 22 years before he can apply for parole.
Park, 27, had denied murdering Madison while babysitting her in Kelty, Fife, while her mother was on a night out.
Madison died after being taken to hospital with massive brain and internal injuries.
The High Court in Glasgow heard Madison, who died from blunt force trauma to her head and abdomen, had 65 separate injuries including a fractured skull, tears to her liver and bruising to her head and body.
Park, the former boyfriend of Madison's mother Ann Marie White, was looking after the toddler at the time of the incident.
Judge Michael O'Grady told Park that what he had done was wicked beyond all imagining.
Park hit Madison's head off a wall at least twice, punched and stamped on her. Prosecutors also believe he may have used a broken pool cue in the violent and sustained attack.
'Dreadful things'
Park also grabbed or pinched the ears of Madison, who was less that one metre tall, causing bruising.
Her skull was fractured and she suffered internal bleeding and tearing to her liver.
Judge O'Grady told Park: "It is the misfortune of those of us who practise in these courts to see and hear of, day after day, the dreadful things that human beings can do, one to another.
"But even by those awful standards what you have done is wicked beyond all imagining.
"A child in your care looked to you for comfort, protection and probably even love. And, instead for some reason quite beyond comprehension, you inflicted upon her a callous, cruel and no doubt terrifying death.
"It is said so often - because it is true - no sentence that I can impose can change anything for Madison and those who loved her and from whom she has been taken.
"In reality, no sentence I can impose can truly reflect the sheer awfulness of what you have done."
As the jury of nine men and six woman delivered their verdict, finding Park unanimously guilty of murder, members of Madison's family shouted: "Yes."
Advocate depute Jennifer Bain, prosecuting, told the court that Park had 38 previous convictions, including a number for violence.
'Defenceless child'
In a statement, Annemarie White, the mother of Madison, said: "This has been a very hard and difficult time for the family and friends of Madison.
"We are pleased that justice has been served.
"I would also like to express my gratitude to everyone that helped with Madison's case and also to thank the Kelty community for being so supportive."
Det Ch Insp Scott Cunningham, of Police Scotland, said: "What he did to a defenceless child is unimaginable, despicable and beyond any understanding.
"Following a major investigation, significant medical, scientific and forensic evidence was recovered and confirmed that he was solely responsible for causing extensive and horrific injuries which resulted in Madison's death.
"He tried to cover up his callous and extremely violent behaviour and actions, not only with disguising the truth by claiming Madison had fallen from a bed, but also by pretending to provide first aid, while showing no remorse at any point.
"I welcome today's verdict and wish to thank all of my team of police officers, police staff, scientific experts and partner agencies for their dedication and professionalism in what has been an extremely traumatic and heart-breaking investigation."
Case review
Nicky Patrick, procurator fiscal for High Court cases in the East of Scotland, said: "The murder of such a defenceless child has caused shock and disbelief amongst her family and the local community.
"Park denied the murder but was successfully prosecuted, having been found guilty by the Court after trial and must now start to pay for the consequences of his violent act."
John Myles, independent chairman of Fife child protection committee: "The chief officers group of Fife have decided to conduct a significant case review following the tragic death of Madison Horn.
"The review will be led independently and will take place in two phases. The first phase will look at information available from files, records, and policies and procedures that were in place before Madison's death.
"Work on this phase has already started. Phase two will take into account any new information that has come to light during the criminal proceedings and will involve interviews with relevant staff.
"We would hope to conclude the review early Spring 2015."