Anthrax claim closes Bathgate streets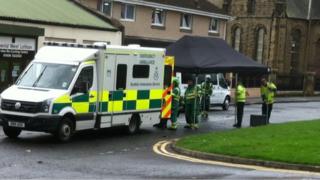 Streets were closed in a West Lothian town after a man phoned emergency services believing he had anthrax.
The 32-year-old man raised the alarm from his home in Gideon Court, Bathgate, just before 07:00.
Gideon Court, Hopetoun Street and Rainbow Nursery were all closed for about five hours. The roads are now being reopened.
The man has been taken to hospital, but emergency services stressed nobody in the house had anthrax.
Two other men and a woman who were inside the property have also been checked for the disease and cleared.
Ambulance staff have dismantled what appeared to be some kind of decontamination equipment.
A Police Scotland spokesman said: "Police in West Lothian, along with the Scottish Fire and Rescue Service and Scottish Ambulance Service, responded to an address in Gideon Court, Bathgate, following a report of concern for a male's health.
"Upon entry to the property, three occupants were found inside and have now been checked over by ambulance staff. There are no concerns for these individuals' health.
"Enquiries are ongoing to trace another male who was believed to have been at the address. He is asked to get in touch immediately so that his health can be assessed."