World's End trial: Angus Sinclair 'treated victims like pieces of meat'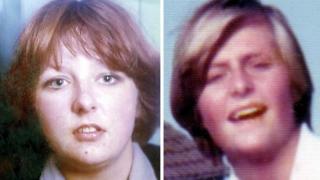 The accused in the World's End murder trial treated the victims "like pieces of meat", a court has heard.
The Lord Advoctate Frank Mulholland QC, prosecuting, said Angus Sinclair acted in an "animalistic" way the night Helen Scott and Christine Eadie died.
Mr Sinclair, 69, admitted having sex with both girls but said he had no idea if they knew they were consenting.
He denies murdering and raping the girls after meeting them in the World's End pub in Edinburgh in October 1977.
Mr Sinclair blames his brother-in-law Gordon Hamilton, who has since died, for the murders.
He claims he had sex with both girls in the back of his caravanette before leaving them with Mr Hamilton to go fishing.
Christine Eadie's body was found the following afternoon at Gosford Bay in Aberlady, East Lothian, while Helen Scott's body was discovered a few hours later in a wheat field near Haddington.
Mr Mulholland told Mr Sinclair: "They were under your control, you raped those two girls and didn't want them telling the police.
"To make sure they had no voice you beat, punched, kicked. You stamped on Helen Scott's head. You bit Christine Eadie.
"That's animalistic."
Mr Sinclair said: "No, I didn't. "
The Lord Advocate went on: "Not content with beating, you were going to murder them with ligatures, gag them, end the lives of two young girls who just wanted to go home.
"You walked Helen Scott barefoot and semi-naked into that field.
"She knew she was going to be murdered. She was terrified".
"No," replied Mr Sinclair.
The accused later agreed that his description of sex with the two girls did not fit with his defence of consensual intercourse.
Mr Sinclair said there had been "kissing, fondling, touching" in the back of the vehicle before sex.
Asked if the girls had been kissing, fondling and touching as well, Mr Sinclair said they had not.
The Lord Advocate said: "You do realise your description of what happened doesn't really fit in, I would suggest to you, with consensual sexual intercourse with both girls. You realise that?" Sinclair replied: "Yes."
The accused had earlier told the High Court in Livingston that Helen and Christine, both 17, never said "no" while he was having sex with them.
'Any concern'
The Lord Advocate said to Mr Sinclair: "I want a truthful answer. Did you rape those girls?"
Mr Sinclair replied: "No."
Mr Mulholland added: "You didn't think those girls were scared or frightened?"
The accused said: "Definitely not".
The Lord Advocate then questioned whether Mr Sinclair had "any concern" for the girls.
He said: "You couldn't care less about them, is that fair comment?"
Mr Sinclair said: "Yes."
Mr Mulholland said "The jury will assess all this evidence and apply their common sense."
Discrepancies between Mr Sinclair's special defences and his version of events in a defence report were then pointed out to him.
The Lord Advocate said: "How did the errors creep in, they just happened?"
'Blunt force injuries'
Mr Sinclair replied: "Yes."
Mr Mulholland concluded: "You took the lives of both girls with Gordon Hamilton and you are the person who with your brother-in-law, who is now deceased, murdered Christine Eadie and Helen Scott?"
Mr Sinclair said: "No I'm not."
Mr Sinclair is alleged to have gagged the girls, bound their wrists and tied a ligature around their necks.
He denies inflicting blunt force injuries on Ms Eadie by repeatedly punching and kicking her on the body and biting her.
He also denies forcing Ms Scott to walk barefoot into a field, ripping the strap from her handbag, repeatedly punching and kicking her on the head and body and stamping on her head.
And he denies stealing clothing, footwear, jewellery and other personal effects from the teenagers in an attempt to pervert the course of justice.
The trial continues.