Three bus services to be withdrawn in West Lothian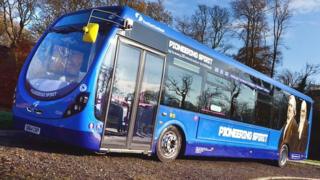 Three bus services, which have been operating at a loss, are to be withdrawn in West Lothian.
First Scotland East said the 30, X2, and 651 services would stop running in 2015 while some other routes would operate on a reduced frequency.
Number 20 will be reduced to an hourly service between Whitburn and Edinburgh while the number 26 will not run between Deans and St Johns' Hospital.
The firm said it had not taken the decision "lightly".
However the West Lothian section of 651 will be covered by extensions to routes 21/22.
First Scotland East recently launched 18 new state-of-the-art vehicles following a £2.6m investment linking Livingston, Broxburn and other towns and villages in West Lothian with Edinburgh.
'Absolutely committed'
The company has also announced it is investing more than £1m in five state-of-the-art green vehicles, with additional funding worth £196,000 for the fleet secured from the Scottish government's green bus fund.
Paul McGowan, managing director of First Scotland East, said: "I appreciate that some of our passengers will be disappointed. However, the services that we're changing have been operating at a loss, in some cases a considerable loss, for many years.
"I can assure our customers that this is not a decision that we've taken lightly. We remain absolutely committed to longer term investment in services in the West Lothian area."
He added: "In order to continue as a viable commercial bus operator, protect jobs, invest in new vehicles, improve our business and support local communities, I'm afraid that we have little option but to take action on services that are unsustainable.
"With changes being made in January, we are trying to give our passengers as much notice as we can."