Expert says a bollard that killed a child at the Royal Highland Show was in 'pretty bad condition'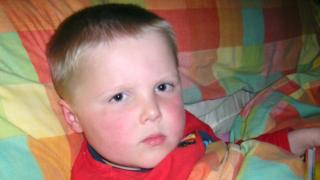 The base of a concrete bollard that killed a child at the Royal Highland Show was in a "pretty bad condition", a court has heard.
A construction safety expert Peter Cheesman, 69, said the fact the bollard was standing on gravel meant it would have a tendency to rock or fall over.
Three-year-old Ben Craggs died after the post toppled onto him at the Ingliston showground in June 2008.
The Royal Highland and Agricultural Society of Scotland denies 8 charges.
Mr Cheesman, a retired senior lecturer at Heriot-Watt University, was giving evidence on the fourth day of the trial at Edinburgh Sheriff Court.
Grabbed rope
Ben was at the show on 19 June 2008, with his parents, Jonathan and Dawn Craggs, from Sedgefield, County Durham, when he fell and grabbed a rope connecting two of the bollards, one of which overturned, striking him on the head.
He died in the Royal Hospital for Sick Children from his injuries.
Mr Cheesman was called to scene of the accident on 20 June by Lothian and Borders Police.
He said the top of the 3.5ft high bollard, was solid, while below was hollow. That made it more likely to fall over.
Tests on the bollard showed that it would take 10 kilos of force to topple it, he said.
He was told Ben weighed 16 kilos and that he was walking when he fell and grabbed the rope, connecting the bollards.
"Even if he had been standing still, that would still have been enough", said Mr Cheesman.
He told the court that had the bollard been joined to another by a metal pole it could still have fallen, but not in the way it did.
"Somebody should be going round every day to check on safety of things like bollards" he said.
It is alleged the society failed to ensure moveable concrete bollards at the showground were stabilised by clamping and, as a consequence, Ben fell and seized hold of a rope connecting two of the bollards causing one to overturn and strike him on the head
Other charges allege:
• the society failed to take action about defects in health and safety arrangements which were drawn to its attention by health and safety consultants.
•that it employed a person as a health and safety co-ordinator who did not have sufficient competence or qualifications and did not provide him with training to undertake the job.
•it failed to identify the risks of the bollards overturning, exposing employees of contractors and members of the public to risk of severe injury and death.
The trial before Sheriff Paul Arthurson QC continues.