Man jailed for 'catalogue' of abuse against four women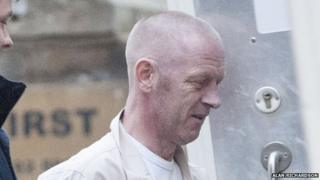 A man who admitted abusing and assaulting several women has been jailed for more than four years.
Gary Mitchell, 45, subjected four women to abuse, including strangling his ex-wife to the extent that he "endangered her life".
He went on to deliberately cause her to crash her car and threatened his other victims with violence.
Mitchell repeatedly followed three of the women around Glenrothes, Fife, and continually contacted them.
A sheriff told Mitchell he could well have been prosecuted for attempted murder over the strangling.
Repeated abuse
Mitchell, who ran his own plumbing business, starting abusing his ex-wife Deborah Kemp in May 2002.
He walked into Miss Kemp's Glenrothes home uninvited and pulled out a telephone cable, saying she would not be able to contact the police.
Kirkcaldy Sheriff Court heard he then pushed her and pinned her to the floor before straddling and strangling her, restricting her breathing "to her injury and danger of her life".
Mitchell abused and threatened Miss Kemp for two years, repeatedly contacting her by phone and text and following her in his car.
On one occasion he drove erratically, causing Miss Kemp to have to brake suddenly, though she was unable to avoid a collision.
He repeatedly drove past her home and sat outside it, as well as repeatedly threatening her with violence, shouting and swearing at her and damaging her property.
In 2004, Mitchell started abusing Laura Hutchison. On one occasion he violently attacked her at a Glenrothes address, pushing her up against a wall before strangling her.
'Serious domestic violence'
Miss Hutchison endured more than seven years of abuse from Mitchell. He repeatedly called and texted her, repeatedly drove past her home, followed her in a car, entered her home uninvited and damaged her property.
In 2008 Mitchell began his abuse of Fiona Morrison, which last for 16 months. He also repeatedly called and texted her, followed her, drove past her home and sent abusive messages.
In November 2013, Mitchell, described as a prisoner at HMP Perth, violently assaulted Michelle Beard at her address in Glenrothes by grabbing her mobile phone and hitting her over the head with it, injuring her.
Stephen Gleeson, defending, said Mitchell had no offences of violence on his previous record. He said Mitchell lived with his wife for a number of years and pointed out his parents were alcoholics, and that Mitchell witnessed violence as a child.
He said: "He's aware a custodial sentence is inevitable."
Sheriff James Williamson jailed Mitchell for four years and one month. He said: "You have pled guilty to a catalogue of serious domestic violence over a prolonged period."