James Clunie jailed for killing Jane MacDonald and Abby Hucknall in Fife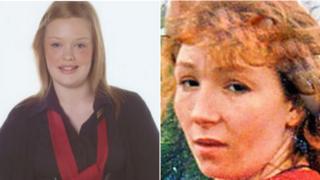 A speeding driver who killed two women on a pedestrian crossing in Fife has been jailed for almost five years and banned from driving for a decade.
James Clunie knocked down Jane MacDonald and Abby Hucknall as they went to a shop in Kirkcaldy in 2012.
The 36-year-old, who has been disqualified from driving on three previous occasions, was driving a Land Rover Discovery.
It was fitted with a tracker device which monitored speed and data.
The device showed that in the five weeks before the crash he had been driving at speeds of up to 115mph on "A" roads and at more than three times the 20mph limit through a village.
Father-of-three
Brian McConnachie, defending, said Clunie was remorseful.
He added: "He understands that no matter the sentence your Lordship imposes in this case, he can't undo what he's done. He deeply regrets his actions."
Passing sentence at the High Court in Livingston, Judge Lord Turnbull, described the father-of-three's attitude to the safety of other road users as "utterly contemptuous".
"It is clear from the moment you took temporary possession of the Land Rover Discovery motor vehicle you consistently drove it in an utterly reckless and irresponsible manner, as exemplified by your driving at 72mph in a 20mph limit; almost 90mph on a stretch of road with a 40mph limit, and frequently driving in excess of 100mph on stretches of road limited to 60mph or 70mph.
"The degree of danger foreseeably created by consistently driving in this manner was obvious, and you posed a serious risk to the safety of the public throughout that whole period."
He pointed out Clunie had appeared in court 46 times since he was 16 and had been disqualified from driving on three previous occasions.
Despite the driving bans he had been convicted again for speeding shortly before the fatal accident in Dunnikier Way on 27 November 2012.
Ms MacDonald, 38, and Ms Hucknall, 18, were walking to Asda when they were killed.
He jailed Clunie for three years and two months for causing death by careless driving and added a further 21 months for the dangerous driving offence.
Miss Hucknall's relatives earlier paid tribute to her in a statement which said: 'Abby's family are devastated by this tragic loss. She was a very bubbly, caring and beautiful girl, a much loved daughter, sister and granddaughter who will be sorely missed by all who knew her."