Visitor numbers treble at Central Library on George IV Bridge in Edinburgh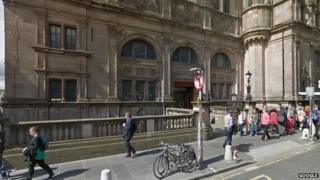 Edinburgh's oldest public library has seen its visitor numbers treble after a major refurbishment of its music and children's collections.
Central Library on George IV Bridge has reported visitor numbers up by 188%.
The children's library, based a few doors down, moved into the main library.
A dedicated craft space, nappy changing and an under-fives room were added and a Lego Club was introduced. Book lending is up by 45%.
The new music library has increased visitors by 26%.
Electricity bills
It is the first time in 40 years that all the central library sections have been housed in one building.
It also now has a new lighting system which has cut electricity bills by 40%.
Richard Lewis, of Edinburgh City Council, said: "The new children's and music collections have really transformed the Central Library and it is great that the new and enhanced facilities are being so well received by visitors.
"As someone who has worked as a musician and conductor, I'm excited that the music library space is being used more and more and I urge students and those keen to explore music in their own way to pay a visit to the library and experience the facilities.
"The refurbished library offers a unique space for relaxing, reading, and so much more and I think Edinburgh residents have been quick to recognise that."