Two crashes on A915 Standing Stane Road in Fife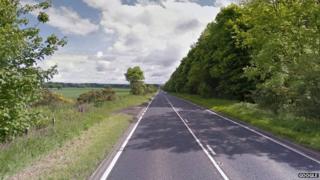 Two people were injured in two separate crashes which happened on a Fife road within a minute of each other.
A 65-year-old man was taken to hospital after crashing into a pole on the A915 Standing Stane Road between Boreland and Windygates at 13:26 on Tuesday.
The second incident happened at 13:27 just feet from the first crash.
A male passenger of a Ford Focus was taken to hospital after colliding with a white Scudo van that had swerved to avoid an Audi A3 which was overtaking.
A 74-year-old woman driving the Ford Focus and a 41-year-old woman driving the van were unhurt.
No-one was injured in the black Audi A3.
The others were taken to Victoria Hospital in Kirkcaldy.
Police closed the road for several hours.