New C.diff case at Royal Infirmary of Edinburgh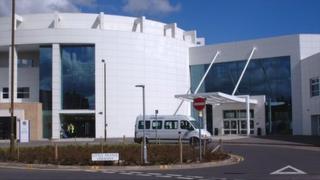 Another patient at the Royal Infirmary of Edinburgh has been infected with C. difficile - bringing the total number of cases to 15 since November.
NHS Lothian said a ward at the hospital had been closed to admissions and transfers "as a precautionary measure".
Three people have died at the infirmary after testing positive for the infection but they were described as having "underlying conditions".
Investigations are ongoing to establish if there is a link between the cases.
---
What is C.difficile?
Clostridium difficile is a bacteria which lives harmlessly in the gut of 10% to 15% of adults.
It causes diarrhoea when the delicate balance of gut flora is disturbed, often following a course of antibiotics.
It is easily spread via airborne spores.
Older people are most at risk from infection, especially those who are frail or with medical conditions. People over the age of 65 account for three-quarters of all cases.
---
NHS Lothian executive nurse director Melanie Johnson said: "Our robust surveillance identified one new case and appropriate measures were put in place straight away to help protect the patient, other patients, staff and visitors.
"Infection control measures have been enhanced and will remain in place."
Ms Johnson added: "If a cluster emerges, we always act as if cases are linked and implement action to prevent cross transmission.
"Our surveillance procedures meant that we were able to identify this new case extremely quickly and take the appropriate action."