Attackers kill chicken in Edinburgh garden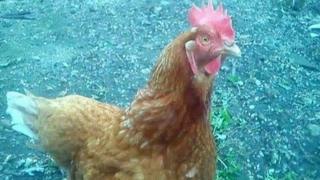 Police are investigating after a chicken was killed and another seriously injured in an attack in Edinburgh.
The incident happened overnight between Wednesday and Thursday in Wester Drylaw Place.
Police said the suspects initially attempted to gain access to a garden shed, but were unsuccessful.
They then opened the chicken coop and killed one of the animals inside.
A second chicken was badly injured. However, it is believed it will survive.
A third chicken was found unharmed in a neighbouring garden.
Family pets
Police Scotland said the family kept the chickens as pets and were very distressed.
The force is conducting a joint investigation with the Scottish SPCA.
Sgt Stuart Mitchell said: "This was a horrifying crime, which has left the family, and their children, in a state of shock.
"We are appealing for any witnesses who may have seen people loitering in the Wester Drylaw area last night to contact us.
"This type of incident is completely unacceptable and we are conducting active inquiries in the area."
Scottish SPCA Inspector June Chalcroft said: "This appears to have been a malicious attack, resulting in the death of one of the chickens and the injury of another.
"Hopefully the results of the post-mortem will explain the cause of death. Thankfully a third chicken, which was missing, has been found safe and well.
"We believe someone may have heard something as the chickens would have made a lot of noise during the incident."